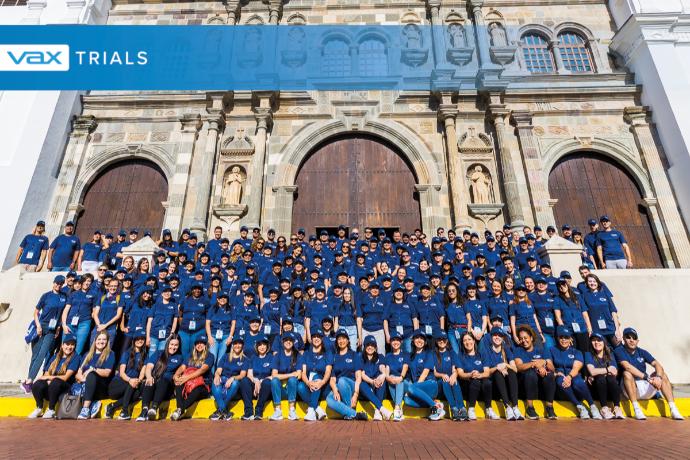 By:
VaxTRIALS
Ten years of contributing to health around the world, VaxTRIALS celebrates its anniversary

For five days, VaxTRIALS employees experienced the second edition of the 2022 Convention "Learning & Growing TOGETHER", which took place in Panama City. The meeting provided spaces for nearly 200 professionals of the company to strengthen the purpose they pursue daily in their roles

.

The team's effort during this last year has been instrumental to grow and achieve the strategic goals that we have set as an organization, said Jose Jimeno, CEO of VaxTRIALS. The participation of Panamanian, Colombian, Salvadoran, Honduran, Argentinean and Brazilian professionals, among others, demonstrates the importance of having a multicultural group that shares knowledge, adapts to new conditions and is trained to continue contributing and accelerating the results that the research industry needs to face the challenges that the global health sector faces.


During the convention, which took place from September 12 to 16, innovative techniques in the industry were presented, as well as the guidelines that will lead the organization to enhance its purpose and make a positive contribution to humanity.


The team was also able to put into practice one of the pillars of the social responsibility program. The "Sexto Sentido" (sixth sense) activity was held at the CD Amador Sports Club, where employees shared with a group of children from the Fair Play Sports Club, with the purpose of encouraging them to believe that the realization of their dreams is possible with effort and dedication.


The convention was also the place to commemorate VaxTRIALS' tenth anniversary, and what better way to celebrate a decade of achievements, challenges and learning than to bring together the entire team that has made this great dream possible, a team now transforming to grow and be at the forefront of innovation at all levels to impact not only the present but the future for the welfare of humanity


---
Elaborado por:
VaxTRIALS


Diez años de contribuir con la salud en el mundo, VaxTRIALS celebra su aniversario


Durante cinco días los colaboradores de VaxTRIALS vivieron la segunda edición de la Convención 2022 "Aprendiendo & Creciendo JUNTOS", que tuvo lugar en Ciudad de Panamá. El encuentro propició los espacios para que cerca de 200 profesionales de la compañía fortalecieran el propósito que diariamente persiguen desde sus roles.


El esfuerzo que el equipo ha realizado durante este último año ha sido fundamental para crecer y alcanzar las metas estratégicas que nos hemos trazado como organización, precisó Jose Jimeno, CEO de VaxTRIALS. La participación de profesionales panameños, colombianos, salvadoreños, hondureños, argentinos, brasileros, entre otros, nos demuestra la importancia de contar con un grupo multicultural que comparta conocimiento, se adapta a las nuevas condiciones, se capacite para seguir contribuyendo y acelerando los resultados que la industria de la investigación necesita para enfrentar los desafíos que tiene la salud en el mundo.


Durante la convención, que se desarrolló del 12 al 16 de septiembre, se presentaron técnicas innovadoras en la industria, así como los lineamientos que llevarán a la organización a potenciar su propósito y aportar positivamente a la humanidad.


El equipo también tuvo un espacio para llevar a la práctica uno de los pilares del programa de responsabilidad social. En el Club Deportivo CD Amador se realizó la actividad Sexto Sentido, un espacio donde los colaboradores compartieron con un grupo de niños del Club Deportivo Fair Play, con el propósito de alentarlos a creer en que la realización de los sueños es posible con esfuerzo y dedicación.
La convención también fue el escenario para conmemorar el el décimo aniversario de VaxTRIALS, y qué mejor forma de celebrar una década de logros, retos y aprendizajes que reunir a todo el equipo que ha hecho posible este gran sueño, que a partir de ahora se transforma para crecer y estar a la vanguardia en innovación a todo nivel que impacte no solo el presente sino el futuro para el bienestar de la humanidad.