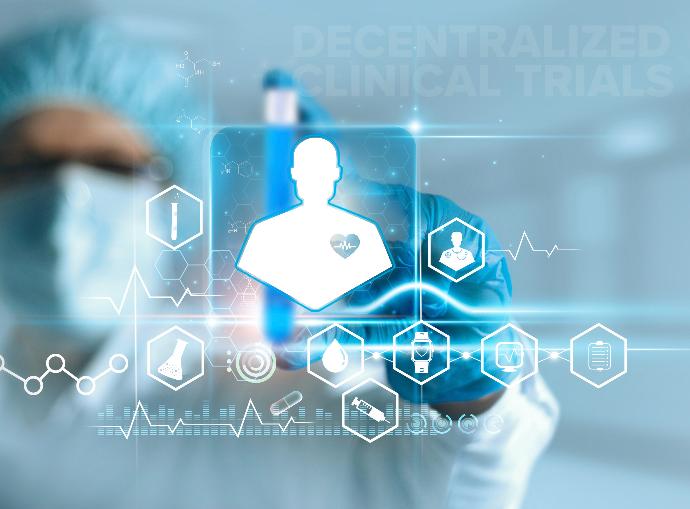 By:
Dr. Maria Angelica Granados - MD, MSc. Clinical Investigator.

Decentralized clinical trials, DCTS. Benefits and challenges


In the wake of the COVID-19 pandemic, the term "decentralized clinical trials" has gained momentum. Still, before discussing their advantages and challenges, it is necessary to know what they are all about. This is not a recent concept; by the 1990s, Fernández Arregui, a researcher at a Spanish research center, published an article on the informatics of computer-assisted decentralized trials, which he defined as studies with remote data entry. One of the main uncertainties exposed there was the convenience of replacing data collection notebooks with electronic captures, a situation that had many skeptics but which today we see as essential.



By 2011, Pfizer had conducted what would be the first clinical trial that did not require in-person site visits. It used the Internet for recruitment, virtual surveys for screening, electronic diaries, and home delivery of the investigational product to participants' homes, all supported by the US Food and Drug Administration (FDA) and partners such as the Clinical Trials Transformation Initiative.



In the pre-pandemic period, this term had already evolved. In 2019, an article in Clinical Pharmacology & Therapeutics suggested that the methods and location for data capture are the ideal metrics for defining the decentralization degree in a study. In this sense, they presented three capture use levels:




Through intermediaries:
Studies in which data are transmitted through third parties, e.g., when an intermediary transcribes information from the medical record into an Electronic Case Report form (CRF) or when paper diaries are used and then documented in the CRF.
Mainly virtual : Studies in which the methodology allows data to be obtained off-site. In these, electronic devices are used by a third party, either patient or study team, to enter the data.
Entirely virtual
: Studies in which there are no intermediaries in the data capture; all data are exported directly to the CRF, e.g., the use of wearable devices such as the gyroscopic accelerometers found in smartwatches.
In 2020, the FDA published the Guidance on Conduct of Clinical Trials of Medical Products During the COVID-19 Public Health Emergency. This provided guidance for adopting methods that facilitated decentralization through remote data capture with tools such as remote informed consent, virtual visits, home delivery of the investigational products, and obtaining labs and images locally.
These recommendations were already part of two programs: the
Information Exchange and Data Transformation Program
(INFORMED), created to promote innovation in scientific data and agile technology, and the FDA's
Real World Evidence Program,
which defines the terms
Real World Evidence RWE and Real World Data RWD,
the latter,
of particular interest because it refers to real-life data that is also captured in traditional clinical trials, converting them into studies with hybrid design or decentralized clinical trials.
Advantages of decentralized clinical trials
There are several advantages attributed to this trial methodology where, perhaps, its greatest value lies in the fact that the research center and the sponsor are no longer the main actors but rather the participants in these studies.
They reach more diverse populations, thus ensuring the diversity of clinical trials, which is one of the objectives of these studies

They provide external validity to clinical trials, one of the main weaknesses of this type of study

They do not require a specialized center. The evaluations do not have to be carried out in highly complex centers.

Extend the quality of traditional clinical trials to the participants' homes and workplaces

Allow study activities to be conducted from the comfort of the participant's home, increasing adherence, retention, and loyalty for future study participation

Connect the real-world context of RWE study data capture with the strictness of traditional clinical trials

Enable the use of new technological resources for virtual data capture

Improve recruitment by enabling different means of mass outreach and facilitating the informed consent process

Decrease patient burden. Most participants are older adults or have chronic or immunological diseases, so in addition to the risk of presenting a complication, attending the research center in person incurs a high cost. In this sense, the FDA Oncology Center of Excellence (OCE) is working to take advantage of the benefits of these studies and evaluate their challenges so that they can be quickly applied in studies with oncology patients who would potentially benefit, considering the characteristics of their disease

Allows remote monitoring, one of the main characteristics of research centers during the pandemic to ensure the continuity of ongoing trials or trials that were about to begin recruitment

They could decrease the sample size of studies due to the greater availability of continuous or high-frequency data

Faster data availability. Cutting down on intermediaries and receiving data directly from the source, making data availability more opportune

Main challenges of decentralized clinical trials
However, just as from the beginning of this concept, some concerns were raised, such as how electronic CRFs could be monitored, there are currently several others about how the quality of traditional clinical trials will not be compromised when adapting to DCTs. If this transition is not made quickly but carefully, the internal validity of the trials themselves could be questioned



Data privacy. Perhaps one of the main concerns is ensuring data confidentiality; increasingly, government regulators require sponsors and research centers to ensure high standards of cybersecurity
For some studies, such as those requiring dose-finding or frequent interventions like biopsies, DCTs present limited options because they need to be offered in a controlled or specialized environment
Validations of remote and wearable devices. In order not to affect the validity of the data collected, the devices, surveys, and other methodologies must have assurances for virtual or remote use
Data collection in uncontrolled environments. Some of the data will be collected by the participants, so the accuracy of the data cannot be guaranteed, especially when they require exact settings or collection techniques
Operating costs. The costs associated with the use of electronic devices and platforms will be an additional budget in DCTs. However, it is expected that these will be offset by the implicit savings that these studies offer
Internet access for specific populations. Certain populations are unfamiliar with the use of the Internet and electronic devices, so appropriate training is required for them and their caregivers

Tools for transitioning to DCTs
DCTs must go hand in hand with technological advances and take advantage of the great benefits they offer in favor of clinical research. Some of the technological resources that have been progressively included are:



Electronic medical records
Mobile technology
Telemedicine
Machine learning algorithms
Electronic informed consent
Home visits
Self-reporting data
Video conferences.
Biometric sensors
Smartwatches and smartphones

The DCTs gained great strength due to the COVID-19 pandemic; they showed that they are viable and that their methodology is here to stay. Their main feature is that the participant is the main actor in the data's planning, execution, and analysis. They go hand in hand with technological advances to obtain real-life data in studies with controlled design. The FDA supports innovation and digital transformation initiatives for these changes to be successful and that the internal validity of traditional trials is not affected. Hence, a balance point must be sought to guarantee the accuracy of the trials, but at the same time, a flexible way of capturing the data.
Latin America as a region is no stranger to this initiative. During the pandemic, measures were taken to ensure that this methodology was adopted. However, it is the responsibility of the regulatory bodies, sponsors, CROs, and research centers to consolidate these measures by enabling the remote informed consent procedure, home visits, distance follow-up assessments, and virtual recruitment.


---
Escrito por:
Dra. María Angélica Granados - MD, MSc, Investigadora Clínica.


Retos y ventajas en los ensayos clínicos descentralizados


A raíz de la pandemia por COVID-19, el término ensayos clínicos descentralizados ha tomado fuerza. Antes de hablar de sus ventajas y retos es necesario saber de qué se tratan. Este no es un concepto reciente, de hecho, hacia la década de los 90s, Fernández Arregui, investigador de un centro de investigación español publicaba un artículo sobre la informática de los ensayos descentralizados asistidos por ordenador, en donde los definía como estudios con entrada de datos a distancia. Una de las principales incertidumbres expuestas allí fue la conveniencia de reemplazar los cuadernos de recogida de datos por capturas electrónicas, situación que tenía muchos detractores, pero que hoy en día vemos como algo imprescindible.
Hacia el 2011, Pfizer condujo el que sería el primer ensayo clínico que no requirió visitas presenciales; utilizó internet para el reclutamiento, encuestas virtuales para el tamizaje, diarios electrónicos y envíos del producto de investigación a la casa de los participantes, todo esto apoyado por la U.S. Food and Drug Administration (FDA), y aliados como
Clinical Trials Transformation Initiative.
En el periodo prepandemia este término ya había evolucionado y para el 2019 un artículo de opinión en Clinical Pharmacology & Therapeutics propuso que los métodos y la ubicación para la captura de los datos son las métricas ideales para definir el grado de descentralización en un estudio. En este sentido presentaron tres niveles de su uso:


Captura vía intermediarios : Estudios donde los datos son transmitidos por intermediarios, por ejemplo, cuando un tercero transcribe información de la historia clínica a un Formato de Reporte de Caso (FRC) electrónico o cuando se utilizan diarios en papel para luego ser documentados en el FRC

Captura principalmente virtual : Estudios en los que su metodología permite obtener datos por fuera del sitio y en los que se utilizan dispositivos electrónicos para que un tercero, ya sea paciente o equipo del estudio, ingrese el dato

Captura totalmente virtual: E

studios en los que no hay intermediarios en la captura de datos, todos los datos son exportados directamente al FRC, por ejemplo, con el uso de dispositivos portables como acelerómetros giroscópicos que tienen los smartwatchs
En el 2020, la FDA publicó la "Guidance on Conduct of Clinical Trials of Medical Products During the COVID-19 Public Health Emergency"
con los lineamientos para adoptar métodos que facilitaran la descentralización a través de la captura remota de los datos con herramientas como consentimiento informado remoto, visitas virtuales, envío de producto de investigación a la casa y obtención de laboratorios e imágenes de forma local.
Muchas de estas recomendaciones ya hacían parte de dos programa Information Exchange and Data Transformation Program (INFORMED) creado para promover la innovación en los datos científicos y la tecnología ágil, y Real World Evidence Program
, en el que se definen los términos de
Real World Evidence RWE y Real World Data RWD
, este último cobra especial interés al referirse a datos de la vida real que también son capturados en ensayos clínicos tradicionales, convirtiéndolos en estudios con diseño híbrido o mejor, ensayos clínicos descentralizados.


Ventajas de los ensayos clínicos descentralizados
Son varias las ventajas que se le atribuyen a este tipo de ensayos, en donde tal vez su mayor valor radica en que el centro de investigación y el patrocinador dejan de ser los actores principales para que, en su lugar, lo sean los participantes de estos estudios.


Llegan a poblaciones más dispersas, lo que permite garantizar la diversidad de los ensayos clínicos. Uno de los objetivos que deben contemplar estos estudios

Permiten dar validez externa a los ensayos clínicos, uno de los principales retos en este tipo de estudios

No necesitan un centro especializado. Las evaluaciones no tienen que hacerse en centros de alta complejidad

Extiende la calidad de los ensayos clínicos tradicionales al hogar y al lugar de trabajo de los participantes

Permite que las actividades del estudio se puedan realizar desde el confort del hogar del participante, aumento su adherencia, retención y fidelización para participar en futuros estudios

Une el contexto real de la captura de datos de los estudios de RWE con la rigurosidad de los ensayos clínicos tradicionales

Habilitan el uso de nuevos recursos tecnológicos para la captura de data virtual

Mejora el reclutamiento al permitir diferentes medios de alcance masivo y facilitando el proceso de consentimiento informado

Disminuyen la carga de los pacientes. Muchos de los participantes son adultos mayores y/o tienen enfermedades crónicas o inmunológicas, por lo que asistir presencialmente al centro de investigación implica un alto costo, además de riesgo de presentar una complicación. En este sentido, la FDA Oncology Center of Excellence (OCE) trabaja para aprovechar las ventajas de estos estudios y evaluar sus retos para que rápidamente puedan ser aplicados en los estudios con pacientes oncológicos, quienes tendrían un potencial beneficio dadas las características propias de su enfermedad

Permite el monitoreo remoto. Una de las principales virtudes con las que contaron los centros de investigación durante la pandemia para poder garantizar la continuidad de ensayos que estaban en curso o que iban a iniciar reclutamiento

Podrían disminuir el tamaño de la muestra de los estudios debido a una mayor disponibilidad de datos continuos o de alta frecuencia

Disponibilidad de datos más rápido. Disminuir los intermediarios y recibir los datos directamente desde la fuente hace que su disponibilidad sea más oportuna
Principales retos de los ensayos clínicos descentralizados
Ahora bien, así como desde el inicio del uso de este concepto se exponían algunas preocupaciones como la forma en que los FRC electrónicos podrían ser monitoreados, actualmente existen varios puntos a tener en cuenta para que las principales virtudes de los ensayos clínicos tradicionales no sean puestas en riesgo al adaptarse a un contexto descentralizado, si esta transición no se hace de una forma rápida y cuidadosa, la validez interna propia de los ensayos podría ser puesta en duda.



Privacidad de los datos. Tal vez una de las principales preocupaciones es garantizar la confidencialidad de los datos, cada vez más los entes regulatorios gubernamentales exigen a los patrocinadores y centros de investigación garantizar altos estándares de ciberseguridad
Para algunos estudios, como los que requieren búsqueda de dosis o intervenciones frecuentes como biopsias, los ECD presentan limitadas opciones porque es necesario ofrecerlas en un ambiente controlado o especializado
Validaciones de los dispositivos remotos y portátiles. Para no afectar la validez de los datos recolectados es necesario que los dispositivos, encuestas y demás metodologías cuenten con validaciones de uso virtual o remoto
Recolección de datos en ambientes no controlados. Algunos de los datos serán recolectados por los participantes, por lo que no se puede garantizar la exactitud de los mismos, en especial cuando requieren de ambientes o técnicas de recolección muy precisas
Costos operativos. Los costos asociados al uso de dispositivos y plataformas electrónicas, serán un presupuesto adicional en los ECD. Sin embargo, se espera que estos sean compensados con los ahorros implícitos que estos estudios ofrecen
Acceso a internet para poblaciones específicas. Ciertas poblaciones no están familiarizadas con el uso de internet ni de dispositivos electrónicos, por lo que se requiere un entrenamiento adecuado para ellos y sus cuidadores

Herramientas para realizar la transición a ECD
Los ECD deben ir de la mano con los avances tecnológicos y aprovechar los grandes beneficios que estos ofrecen en pro de la investigación clínica. Algunos de los recursos tecnológicos que se ha incluido progresivamente son:



Historia clínica electrónica
Tecnología móvil
Telemedicina
Algoritmos de aprendizaje automático por máquinas
Consentimiento informado electrónico
Visitas en casa
Datos de autoreporte
Videoconferencias
Sensores biométricos
Relojes y teléfonos inteligentes
Los ECD tomaron gran fuerza a raíz de la pandemia por COVID-19, demostraron que son viables y que su metodología llegó para quedarse. Se caracterizan porque el participante es el actor principal en la planeación, ejecución y análisis de los datos y van de la mano con los avances tecnológicos para obtener datos de vida real en los estudios con diseño controlado. La FDA apoya las iniciativas de innovación y de transformación digital para que este cambio sea exitoso y no se vea afectada la validez interna propia de los ensayos tradicionales, se debe entonces buscar el punto de equilibrio en el que se garantice la rigurosidad de los estudios, y que a su vez sea flexible en la forma de capturar los datos.
América Latina como región no es ajena a esta iniciativa, durante la pandemia se tomaron medidas para que esta metodología fuera adoptada, sin embargo, es responsabilidad de los entes regulatorios, patrocinadores, CRO y centros de investigación, que estas se consoliden habilitando, entre otros, los procesos de consentimiento informado remoto, visitas en casa, evaluaciones de seguimiento no presenciales y reclutamiento virtual.